PRIMARY AND SECONDARY LOGOS
​​​​​​​
BRAND STORY AND IMAGERY
I was asked to work on the design strategy/brand identity from scratch. The idea was to avoid any references to racing and focus on the word 'PITSTOP' as an act of taking a break from the mundane. 
I worked on multiple concepts, below are the various design experiments conducted to arrive at the final concept.
 THEME:  ADVENTURE/CAMPING/MOUNTAINS
The first concept was to build a story around taking a pitstop during a road trip through the mountains. It builds on the mountain icons commonly used in the branding for classic beer/seltzer companies, bringing familiarlity with an adventurous twist.
Another option was to use an animal mascot that lends a fun, quirky vibe to the identity. A chameleon seemed apt as it would allow us to play around with the brand colours when new flavours were introduced.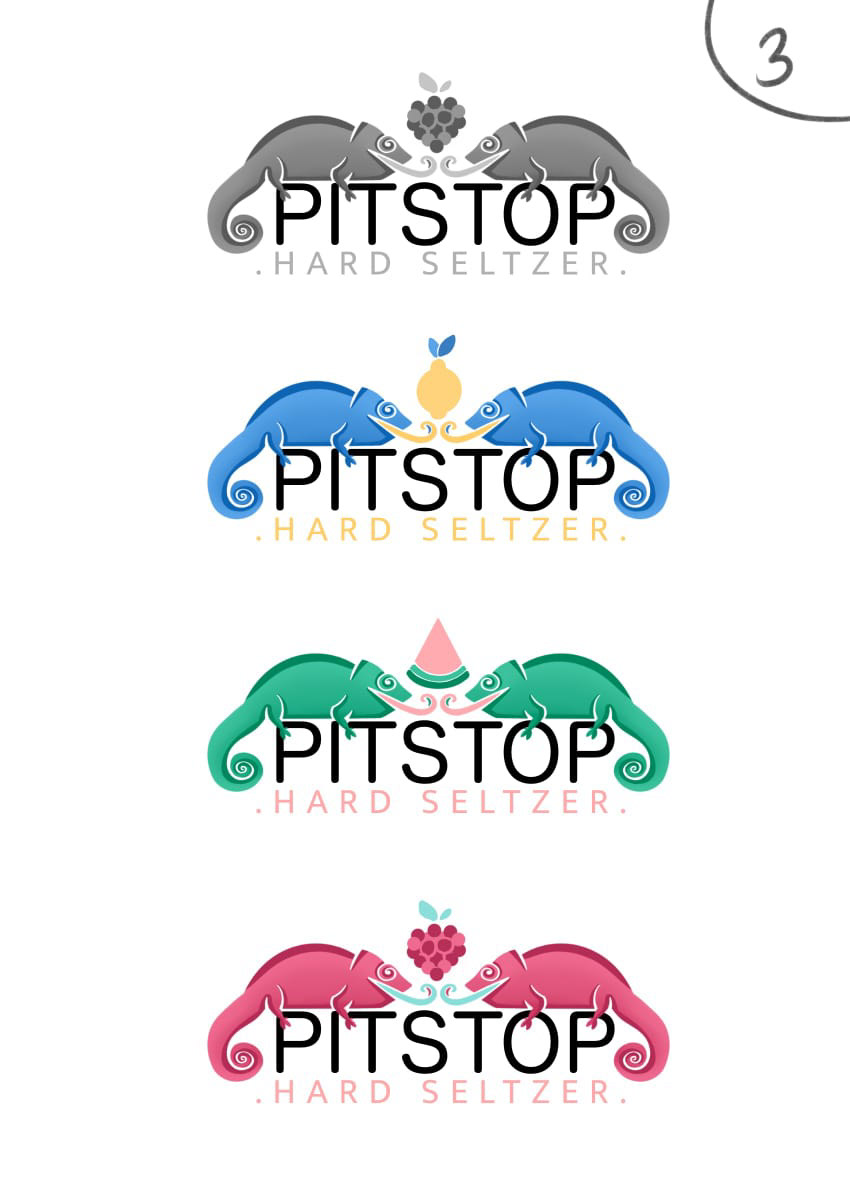 TYPOGRAPHIC: TEXT CENTRIC
The first concept here builds on the mountain/road trip theme, but by incorporating it into the text logo itself, it works as a little window into the scene - alluding to the idea that this seltzer might be your ticket to a wonderful adventure.
The second concept involved building a reference to fizzy bubbles as the seltzer comprises primarily of sparkling water, using a more surface level allusion. 
The client gave the go ahead on the first typographic concept as it satisfied their request for a simple design alongside a meaningful story.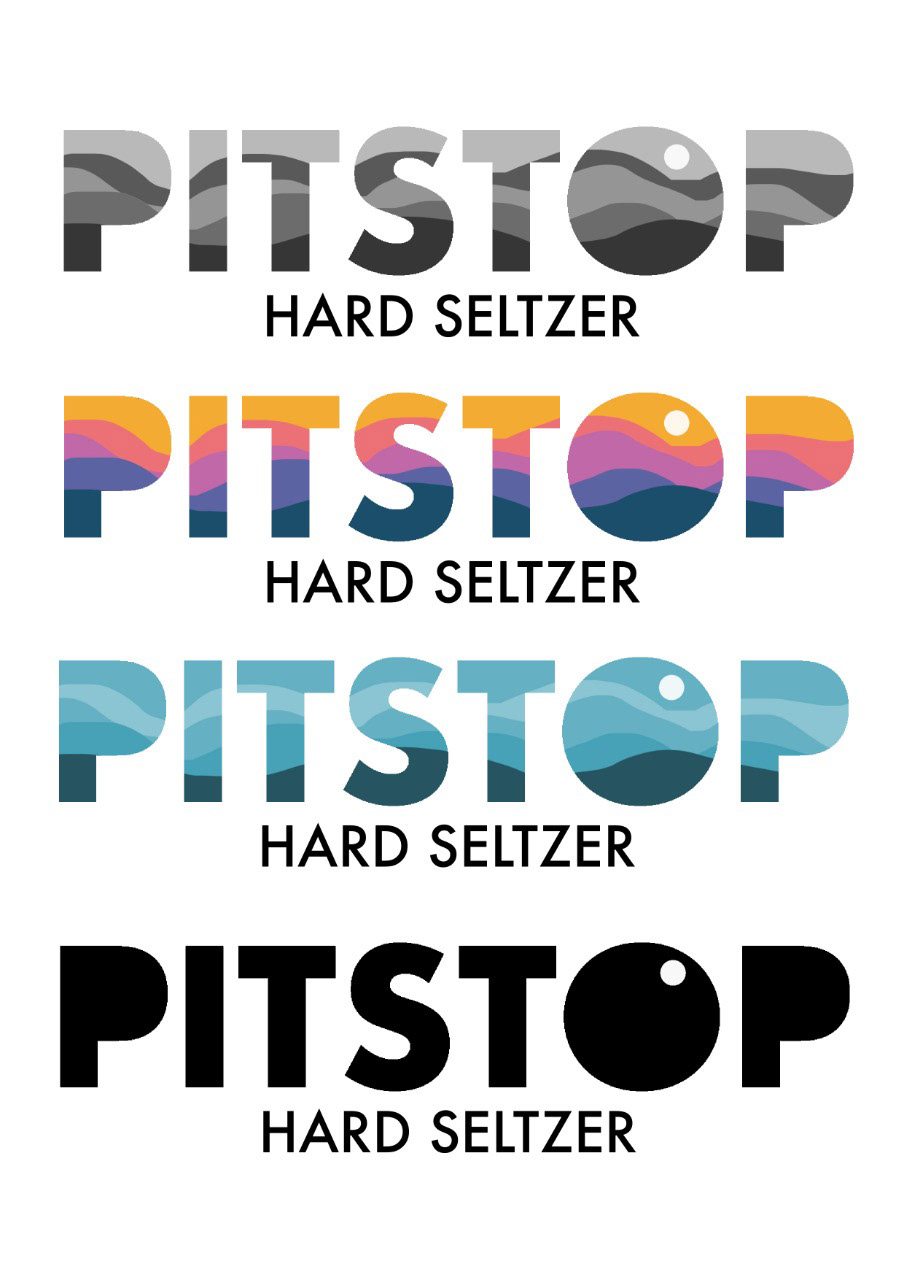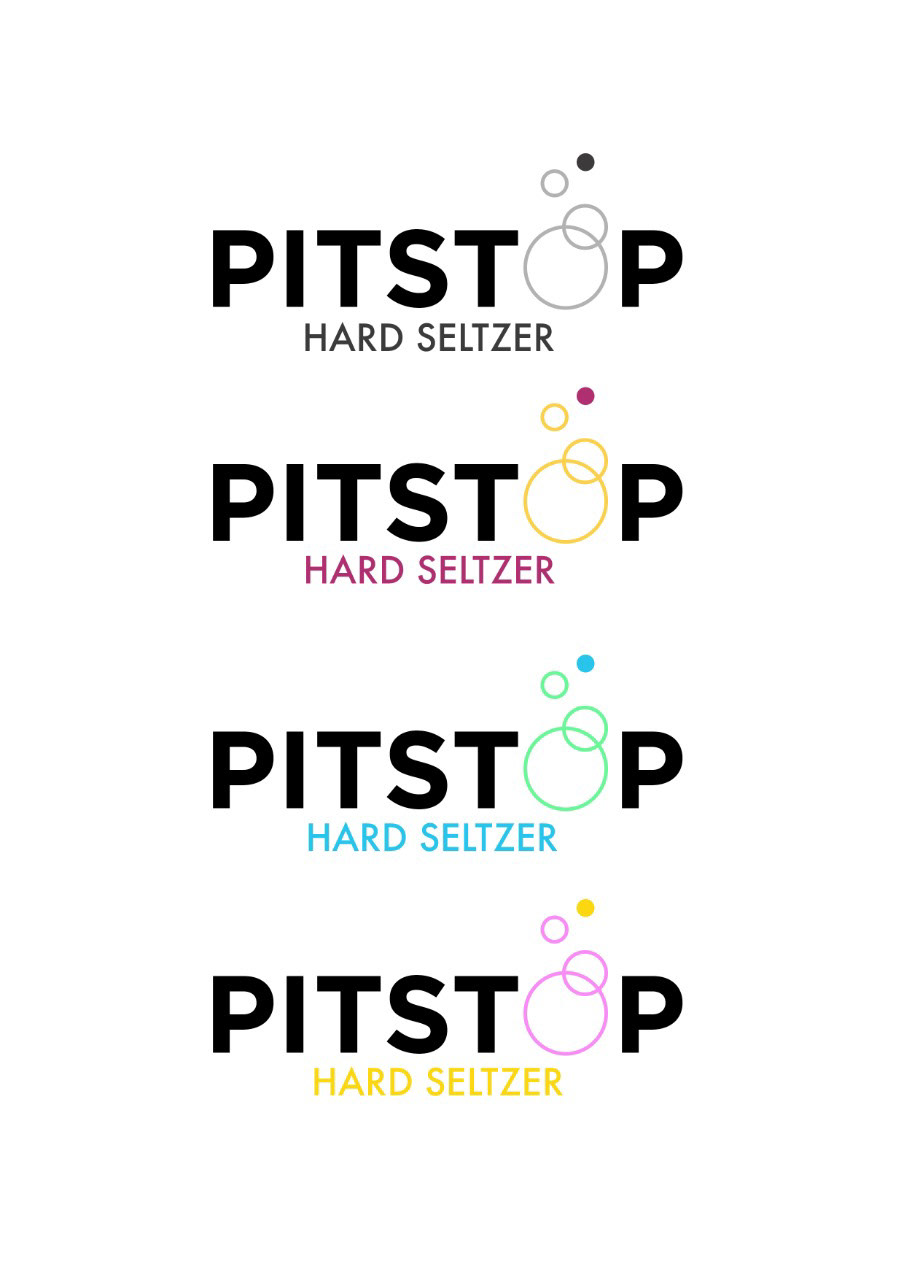 Once we settled on a logo the client requested me to work on illustrations for the packaging and come up with a suitable story/concept that would fit the brand name and help make the product more appealing to the target audience. 
Illustration Style: Sketch              Illustration Theme:  Lifestyle/Activities
This concept focuses on PITSTOP as a break from the mundane in the form of activities one might undertake on holiday/ as a hobby/ or on a journey of self-discovery. It works as an anthi-thesis to combat the drudgery of stressful jobs/deadlines or the harsh reality of modern lives.  
Illustration Style: Vector icon art                Illustration Theme:  Points of rest
This concept leans more toward location. It showcases PITSTOP as a physical place one might visit for respite from a mundane, unwelcoming world. For example: A joyous festival in the midst of a city, an inviting island in a vast landless ocean or a treehouse in a wild uninhabitable jungle!